Wintub is a website that offers an opportunity to earn money by watching videos and referring others to join the platform. It is free to join and anyone can sign up to start earning money.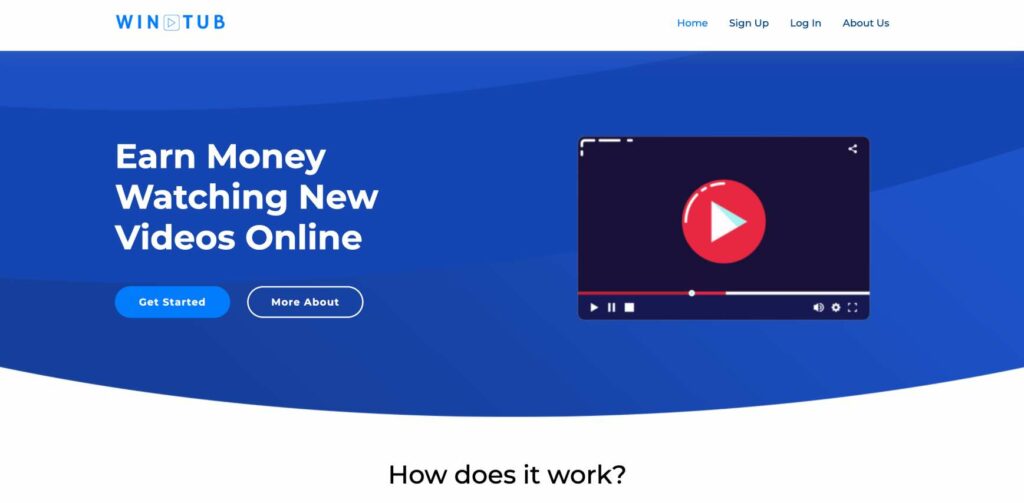 The platform is accessible in all countries through the internet and has gained popularity in countries like Morocco, India, and Portugal.
However, the identity of the founder of Wintub is unknown, and the platform was registered in December 2020 according to WHOIS data.
As per similar web, the domain www.wintub.com has around 900k monthly traffic, which is excellent for such a website.
Read: B-Love Network 
How to Join Wintub?
Joining Wintub is a straightforward process. To become a member, you need to visit the Wintub website and click on the sign-up option. You will be required to fill in your name, address, contact number, and some additional information.
Once you have registered, you can start earning money by watching videos and referring others to join the platform. However, before diving into the earning process, it is essential to understand the ways to make money through Wintub.
Read: Rupeetub Review
How to Earn Money from Wintub?
There are two ways to earn money through Wintub:
1. By Watching Videos
Wintub offers a meager amount of money for watching videos. Users are shown five videos per day, and a fixed income is provided for each video. However, the amount earned through this method is not enough to make a living.
2. By Referral
The second way to earn money through Wintub is by referring others to join the platform. You receive a commission for every person that joins Wintub through your referral link.
The commission range between $0.20 to $2, depending on the country of the person who joins.
Read: Rooter App Review
Is Wintub Real or Fake?
The most crucial question that arises is whether Wintub is real or fake? After conducting thorough research on Wintub, we can say that it is not a legitimate platform to earn money.
Also, there are some red flags that should be kept in mind before joining.
Inadequate Tasks
Firstly, the amount of money that can be earned through Wintub is meager. It takes a lot of time and effort to earn even a small amount of money. Therefore, it is not recommended to rely solely on Wintub for earning a living.
Missing Founder Information
Secondly, the lack of information about the founder of Wintub is concerning. The identity of the founder is unknown, and the platform was registered recently, in December 2020. This lack of information raises questions about the credibility and longevity of the platform.
Spammy site
The site appears to be quite spammy, which can be a major turnoff for many users. The website claims to be partnered with more than 1500 brands, but we didn't find any proof of their claims neither on their website nor on the brands' websites.
High Payout Limit
Additionally, the high payout threshold may make it difficult for users to actually receive any rewards for their time and effort. As they
pay a very low amount per task and the $80 minimum threshold seems to be unachievable.
The high payout thresholds are often seen as a red flag among survey and rewards sites. Users are typically looking for a way to earn a little extra cash or rewards, but if they have to spend a lot of time and effort just to reach the payout threshold, it may not be worth their time.
No Withdrawal
Many users have complained about Wintub and claimed it never offers withdrawal. Users who spend various hours on the platform to earn some money got nothing, as WIntub never allows withdrawal.
Wintub is an absolute scam that is wasting the time of netizens and only the company is making profits.
Read: Titan X Robot Review