The Super Patch Co, an online retailer of plastic patches, claims that it uses contemporary technology to create its plastic patches, making them suitable for use as pharmaceuticals.
In this post, we will review Super Patch and let you know whether it is a scam company or not.
What is The Super Patch?
Super Patch is a plastic patch-selling company that states it used "vibrotactile technology" in its patches which can help to cure many things and can be used as substitutes for other medicines as well.
Super Patch also has a compensation plan for its members and an affiliate program to earn more incentives.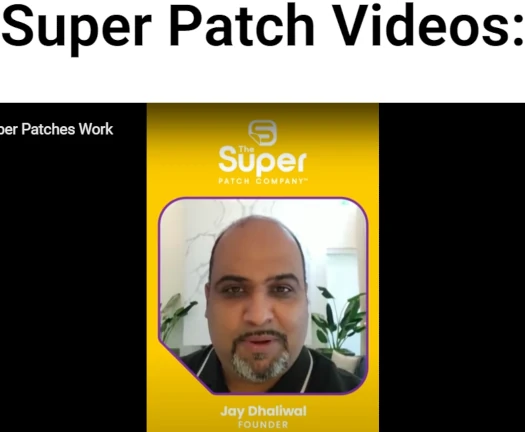 The co-founder of Super Patch is Jay Dhaliwal and it was established in March 2023. The headquarters is situated in Canada.
Super Patch is partnered company of VoxxLife which sells socks with similar objectives to enhance athletic performance and focus.
According to SimilarWeb, the total visits to the Super Patch website are 82k+ with the top countries reaching Germany (55%), the United States (24%), and Switzerland (7%).
Moreover, the Super Patch domain was last updated on February 2023, as per WHOIS.
Read: Wipuot.com Review
Website Profile
| | |
| --- | --- |
| Website | Superpatch.com |
| Known as | Super Patch |
| Site type | MLM |
| Products Offered | Patches |
| Domain registration date | 6 June 2000 |
| Address | 350 Britannia Road East Unit 1. Mississauga ON, Canada |
| Contact e-mail | [email protected] |
Read: Sniom.com Review
Super Patch Review
Although Super Patch appears to be a clean and clear business, we found several grey characteristics in it. Let's take a look at some pros and cons of this business:
Pros
Founders are actively present in the market
Contact support available
Address of headquarters provided
Cons
No research and study provided by the company regarding its product claim.
Products not approved by FDA.
Negative reviews on the internet.
MLM compensation plan enforces stockpiling.
The only query regarding Super Patch's operation is whether or not its plastic patches live up to the company's claims. Because the corporation has made several irrational, excessive promises regarding its items.
After reading both good and bad reviews online, we can conclude that the patches are more of a placebo that works occasionally but not consistently that's why to increase their audience, they thus developed an affiliate program and revenue plan.
Read: Shopyys-bm.com Review
FAQs
Who is the operator of Super Patch Review?
The co-founder of Super Patch is Jay Dhaliwal.
From where Super Patch is operating?
Super Patch is operating from Canada.
Is Super Patch legit?
Yes, Super Patch appears to be a legit website but we can't comment much on its product relatability.
Should I join Super Patch?
Yes, you can join Super Patch but at your own risk.
Read: Wallisr.shop Review